Thin Film and Target Development
Laboratory at IUAC
This laboratory is one of the user support laboratories which provides facilities and necessary help to the user community for the preparation of thin films and targets required to perform experiments using the Pelletron, in the areas of Nuclear Physics, Atomic Physics and Materials Science More than 100 thin films and targets are prepared per year in this laboratory.
Along with the preparation of targets, the laboratory also prepares 5 microgram/cm 2 thick, free standing carbon foils used as stripper for the 15UD Pelletron accelerator. Approximately 600-800 stripper foils are used in the Pelletron in a year.
The Facilities for Thin
Film and Target Preparation
Evaporator-I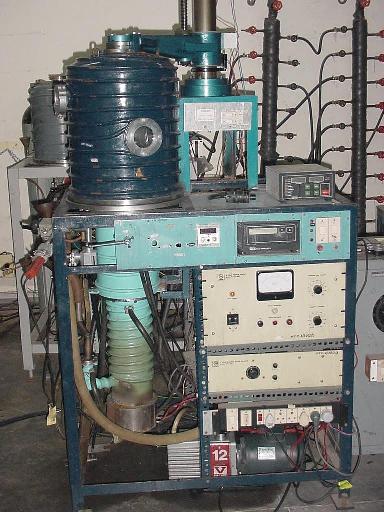 Features
Resistive heating arrangement.
A single pocket electron beam gun and 2kW power supply.
Quartz crystal thickness monitor.
Pumped by a diffusion pump with liquid nitrogen trap.
Base pressure ~10-7 mbar.
Cryo Pump Based HV Evaporator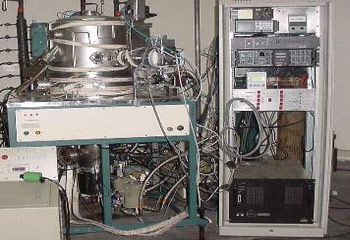 A cryo-pump based HV evaporator has been setup to prepare thin films under hydrocarbon free high vacuum condition. It is used extensively for the preparation of thin film multi-layers for materials science experiments, targets of metals of high melting point with low vapour pressure and various other applications which require hydrocarbon free evaporation environment.
Features
Evaporation Source
A 4-pocket electron gun and 6 kW power supply.
Resistive heating arrangement.
Online Thickness Measurement
Dual crystal thickness monitor.
Programmable deposition controller.
The electron gun power supply is interface to this controller which controls the output power of the e-gun by PID method according to the programmed deposition schedule.
The thickness of a film can be defined within an accuracy of 1 Å and the rate of deposition can be controlled with accuracy of 0.1 Å/s.
Pumping Station
Scroll pump (for roughing of evaporator and backing of turbo molecular pump).
Turbo molecular pump.
Cryo pump.
Base pressure is 2x10-8 mbar.
Residual Gas Analyze (RGA)
Pfeiffer Prisma QMS200, 200amu RGA installed to monitor partial pressure of gases in the evaporator.
Evaporator-II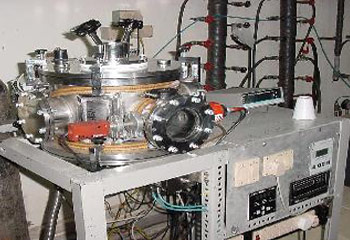 Features
Resistive heating arrangement.
Quartz crystal thickness monitor.
Pumped by turbo molecular pump.
A wide beam ion gun to sputter clean substrate.
Substrate cooling upto 100K.
Base pressure ~10-7 mbar.
Rolling Machine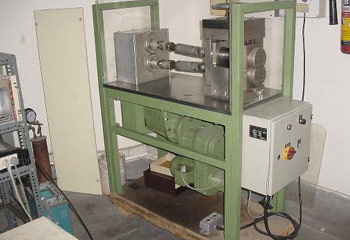 This machine is used to prepare thin foils by cold rolling method.
The material to be rolled is placed between two mirror polished stainless steel plates and rolled through specially hardened rollers. The gap between the rollers is reduced gradually to achieve thinner foils.
Foils of ductile metals of thickness of the order of 1 mg/cm2 can be prepared by this method.
Very efficient mthod, no loss of expensive materials.
Pellet Making Press
Half ton press is used to make pellets.
6 mm pellet can be made by using proper die. It can be used for the preparation of targets in palletized form.
It is also used for compacting powder materials before evaporation
Other
Facilities
Micro Balance
Useful to measure the weight of thin foils with an accuracy of 10 microgram.
Areal density of a foils can be measured directly using this balance.
Required to measure thickness during target preparation using cold rolling technique.
Vacuum Oven
Heating upto 400oC.
Pressure of 10-2 torr.
Tube Furnace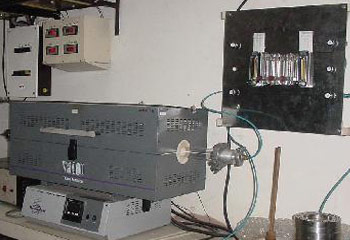 Annealing at temperature upto 10000C.
A 8 ramp 8 dwell multi programmable controller.
Annealing in controlled atmosphere inside quartz tube.
Vertically Downwards Laminar Flow with Chemical Exhaust and Laminar Flow Clean Air System
For the cleaning and chemical treatment of substrates before thin-film growth.
Creates clean environment by flowing filtered air on the work table. There is also chemical exhaust, which drives chemical fumes out of the laboratory.
Off-line Target Thickness Measurement Setup
The thickness measured by quartz crystal thickness monitor or by weighing method may not be very accurate. For the absolute thickness measurement of thin free standing foils the following method is used.
The steps followed are:
5.484 MeV alpha particles from 147Am radio active source are allowed to pass through the foil.
The particles are detected by a solid state surface barrier detector.
The spectrum is recorded in a multi-channel analyzer.
The multi-channel analyzer is callibrated to measure energy.
The specific energy loss of the 5.484 MeV alpha particle in the foil material determined from theoretical value.
The thickness of the foil is determined by measuring the energy lost by the particles while passing through it and comparing with theoretical value.
Contact
Persons

Mr. Abhilash
abhilash@nsc.ernet.in

Mr. D. Kabiraj
kabiraj @nsc.res.in

Dr. D. K. Avasthi
dka@nsc.ernet.in